ATTENTION
Due to high work load we are currently prioritizing:
Hot water system repairs and replacements
Call: 0447 081 768
Ellenbrook Local Plumber!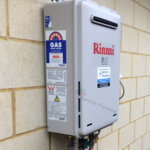 Hot Water
We prioritise hot water system repairs and replacements!
Don't settle for a cold shower! We work with local suppliers and Australia's biggest hot water brands like Rinnai, Rheem, Bosch, iStore and Thermann.
We do:
Hot water repairs
We can diagnose and fix your hot water issues. We will promptly identify the issue and offer honest advice about the best way to remedy, Prices are given upfront so there are no surprises.
Tempering valves, leaking/blocked relief valves, isolation valves
Replace hot water systems
By far our favourite job and fast becoming our specialty. We can recommend, supply and install new replacement hot water systems. Wether a like for like swap over or upgrading to the latest and more efficient technology, We have it covered.
Gas, electric and solar!
Hot water servicing
We can carry out the preventive maintenance that your storage hot water system requires. We replace anodes and check the valves are in working order.
We offer these services. These services are our number 1 priority.
We do not currently offer:
Instantaneous/continuous flow 'Servicing'
Modern electronically controlled continuous flow hot water systems generally do not have serviceable parts that need regular attention.
Older style mechanical instantaneous systems do however need yearly attention that is best served by a specialist.
On-roof solar repairs/servicing
Roof mounted solar hot water presents a unique challenge best suited for solar specialists that have the right experience and parts.
We can however offer replacement solar systems.



Sub-par brands
A hot water system should last decades, therefor we only supply units that have a proven track record and a good consistency to their products.
We do not offer these services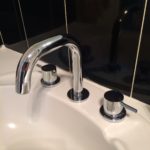 General Plumbing
We do:
Tap replacements and servicing
We can repair, clean and service most taps. The ones that can not be fixed we can replace!
Toilet cistern repairs
We repair leaking, noisy, slow filling toilet cisterns cistern replacements when required.
Burst pipe repair
We can repair burst pipes, if you know where it is we can fix it!
Reticulation cut-ins
We can provide a reticulation cut-in to your existing water feed, complete with isolation valve and check valve.
Connecting fridge water
We can assist with connecting your new fridge to an existing fridge water supply tap.
Appliance connection
We can connect your new dishwasher, washing machine or condensing dryer to the required water and drain lines.
We offer these services
We do not currently offer:
Mixer tap repairs
Unfortunately mixer taps aren't repairable by design. We can do replacements.
Whole toilet replacements
We currently do not offer whole toilet replacements or works that involve removing the toilet bowl.
Leak detection
This is a specialist field that requires specialist equipment. We recommend finding your local leak detecting specialist.
Reticulation and sprinklers
We recommend finding a specialist to get the best value and expertise for your sprinkler systems.
New fridge taps
We currently do no install new fridge taps from a remote water source. We can help if there is a water supply directly next to or behind the appliance.
Appliance repair
We do not repair faulty appliances such as dishwashers, washing machines, fridges, ovens or dryers. You may require an Appliance Technician or Electrician.
Renovations and construction
With so many great renovation companies around we are happy to leave these jobs to the specialists.
We do not subcontract or contract for new builds, extensions or renovations. We will not work for builders.
Rain water or grey water
As a metropolitan business there is no demand for us to do rain water or grey water system work.
Advanced drain repairs
We don't currently offer drain camera inspections, drain locating or internal drain relining.
General drainage
We do not lay drains, repair drains or any storm water.
Septic tank systems
We don't currently offer repairs to septic tank systems, leach drains or sewer conversions.
Blocked Drains
We do not offer these services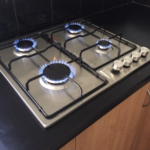 Gas fitting
We do:
Gas hot water installation, repair and replacement
Our specialty, we prioritise your hot showers!
Gas cook-top replacement
We can currently replace similar sized gas cooktops.
Gas compliance inspections
We currently do inspections for banks and property owners to ensure their properties gas is up to standard, safe and working. If all is ok we can issue a gas safety certificate.
If not we can advise on required works.
We currently offer the following
We do not currently offer:
Gas bayonets
We do not currently offer the installation of new gas bayonets.
Gas appliance repairs/servicing
This is a niche field so we recommended finding a licensed gas service specialist for all gas servicing and repairs.
Gas oven installation and replacement
We do not offer these services
Videos of our work
Contact us: